At the same time while Vietnam's Tourism Industry has explosively developed in the past ten years, Hospitality Management has laid a foundation and gradually become as a land of opportunities for a large number of businesses as well as young generation to explore and conquer. Even though it is not a novel industry, it was necessary to understand correctly and fully about this industry in Vietnam. We will talk about UHM Group, which known as an International Hotel Management Group attracting the attention of inventors and hotel owners.
UHM Group with a challenging way to define "Hospitality Management" for Vietnam businesses
In the early 2000s, while the entrepreneurs and investors of hotels, resorts in Vietnam were still confused with the concept of transferring their projects to a management unit, UHM Group realized the risk of the erosion being an inevitable situation for any Hospitality Project after a period of operating, especially operating without improvement. The problems encountered such as: lack of financial statement, human resource shortage, lax process system, unstable revenue, ineffective marketing,… But with a holistic view of a pioneer, UHM Group has also realized broaden opportunities for businesses operating in this field.
At that time, UHM Group 's team member fulling of professional experts coming from many countries has operated in a large number of aspects of the Tourism such as architecture, human resources, cuisine, security, training and technology. With the desire "branding the success", UHM Group started signed the first contracts in Vietnam with big business owners and partners.
While restructuring a core project, the biggest challenge is how to "think outside the box" with its process that has been operating for many years, help to improve it as well as make the nearly 500-person-machine apparatus work smoothly,... But UHM Group saw their efforts bear fruit when the project reduced operating costs by 30%, the revenue increased by 80%. This cooperation has helped UHM Group more and more understand the Vietnamese market and culture, and gradually formed the concept of cooperation with the Management Unit for businesses and investors.
The foundation for understanding brands is understanding their culture
Not following the service structure like other International Hospitality Management, UHM Group adjusted the service to three key areas, suiting to the Vietnamese market: Initialization consultancy, Management commissioning and Restructuring.
The reason UHM Group chose these three key areas is the time when businesses choose Management units in Vietnam is often later than other developed countries. At that time, the project may have been up the whole idea, even operated for a while.
By the division of experts working in different regions to learn about the population, social, political, economic and cultural structure of that region, UHM Group quickly understood the project, adjusted business strategies and created the right customer segment.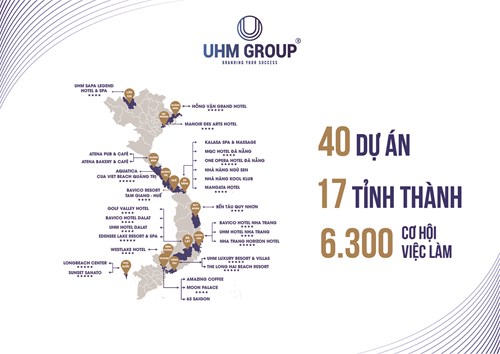 The UHM Group's project map is expanding day by day
As an example, Hong Van Grand Hotel is a 5-star hotel project with 12 years of history, located in the most favorable location in Mong Cai City, Quang Ninh. Behind the transition from a decade-old operating process to the most appropriate operating procedure, personnel, business strategy and communication is a long learning period about special culture at the border region of UHM Group. After just over a year of cooperation, the project was able to operate by itself, generated revenue, attracted larger customers and maintained sustainability.
Strong development in the Vietnamese market
Not only does UHM Group operate in the Hotel – Resort areas, this brand also manages a deal of projects about entertainment centers, services, restaurants, cafes, gaming centers. UHM Group is the brains behind the success of a series of high-class resort projects such as UHM Luxury Resort & Villas Binh Chau - Vung Tau with a scale of over 27ha, Sunset Sanato Resort & Villas in Phu Quoc, The Long Hai Beach Resort which is the first project applied the 4.0 technology in our country, …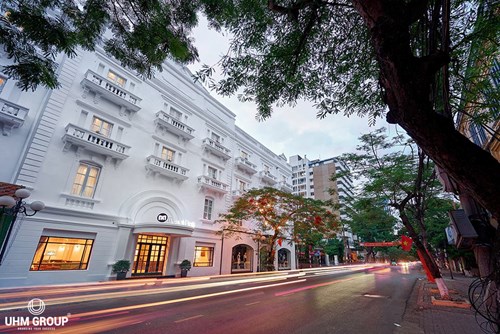 Manoir Des Art - French symbol in the heart of Hai Phong city
These are all successful results after 10 years of operation of UHM Group, which is evident in a solid foundation with the strong financial as well as a talent core team member to constantly "branding your success". With its project map being increasingly expanded that combines 40 projects of restructuring and managing the chains of high-class restaurants and hotels with high investment capital, UHM Group is the convincing answer to the concerns that Vietnamese businesses are always concerned: Why does it need another unit to take care of their brainchild?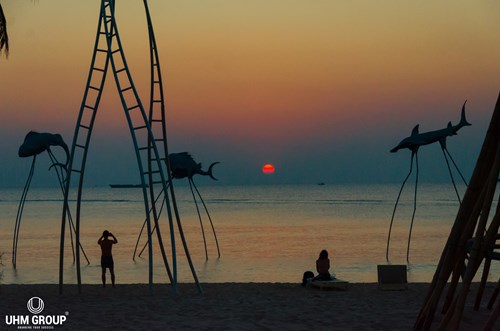 Sunset Sanato Resort & Villas where to admire the most beautiful sunset in Vietnam
6300 job opportunities each year at UHM Group
Besides branches in the US, India, Australia, Singapore, UHM Group is also expanding in Vietnam with two offices in Ho Chi Minh City and Da Nang City.
UHM brand ecosystem is also "gaining momentum" from the success of the project to create more than 20 brands which is the company members operating in the field of Commerce - Services, providing a package of services that meets business need. For instance, UHM Entertainment specializes in communications, marketing and branding; UHM Academy for training and developing specialized human resources for the industry; UHM Jobs specializes in recruiting more and more diverse employment systems that the Group offers, helping employment opportunities increase to 6300 per year.
Operating in Vietnam market, UHM Group has been affirming the clearest values that a business or project needs to ensure sustainability. There is absolutely no concern for Vietnam businesses to continue developing their projects thanks to the solid foundations and professional services. Since then, UHM Group has contributed to creating the clearest and most profound definition of Hospitality Management for in Vietnam.
UHM Group - Universal Hospitality Management
Official website: www.uhmhotels.com/

Employment information page: www.fb.com/TuyendungUHMGROUP