A professional online hotel booking software via website and application with a network of thousands of hotels across Vietnam, supporting for customer with the most economical trip, easy-to-use interface and having a team of expert consultants 24 hours a day, 7 days a week.
Learning more about CCS Booking - The promising subsidiary brand of UHM Group
As a sub-brand of UHM Group, CCS Booking has a lot of potential for the further development and promising highlights outstanding steps in the reservation service industry. Check out the outstanding services that CCS Booking offers, includes: Hotel reservation; Linking many destinations with hotels; Transport linking; Supporting tour groups with the lowest-price and best price; Linking payment with reputable units; Aviation linking
Customers choose CCS Booking because of such advantages
Room prices are constantly updated with the lowest price and numerous attractive promotions.
Supporting linking hotels with plentiful destination
Supporting offering the package for the tour group
24/7 customer care
Safe and flexible payment method
Real customers with real reviews
Becoming a member of CCS Booking to receive the most complete care - support – offers
Furthermore, CCS Booking continues to spread values as well as offer business efficiency to partners across the country, for common development goals such as:
Expanding OTA channels with lowest commission
Maximily accessing to customers
Optimizing channels and communication programs to increase competitiveness
Expanding MICE service business
Collaboration with travel partners, financial to help customer experience better
Professional customer care team - 24/7
CCS Booking discount rate is only 10%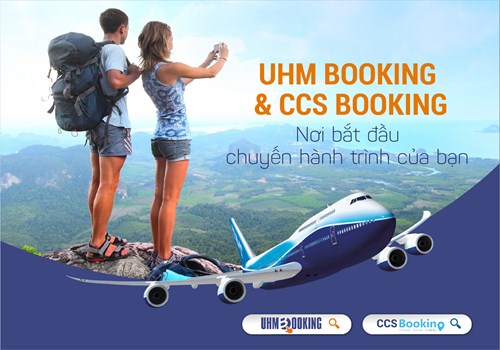 CCS Booking - Where your journey begins
Not focusing on a specific group of customers, CCS Booking is a booking channel for everyone by age, career, spending level or any kind of travel.
Age range: offering a wide range of reservation hotels choices for all from younger to older age groups, simplifying the process to make it possible for anyone with the most effective CCS booking to use.
Occupation: You are able to find a hotel meeting your needs whether you are a student, employee or business people. The hotel information record function will help guests have many hotel suggestions suiting their needs.
Sending level: some useful features such as demand filters or automatically saving customers' searching habits will help CCS Booking group customers according to their spending levels to immediately give the suggestions in a snap.
Kind of travel: Group and individual guests will always have their own booking habits, CCS Booking helps your hotel reach each type of customers most effectively.
Optimizing communication activities with CCS Booking
As an experienced unit in the fields of direct broadcast activities, we create an ecosystem of closely interconnected communication channels to help you save maximum communication budget but still achieve the very-well results.
Wherever customers are
What are you looking for?
Customers are discussing trendy events
Which are the freshest places?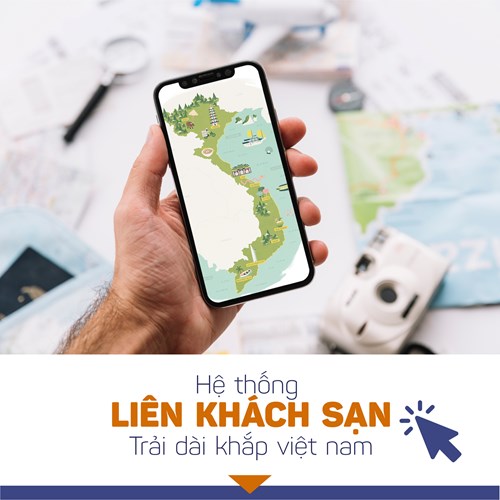 Inter-hotel system stretching across Vietnam
We will also reach out and make yours become a waypoint that your customers need for your trip.
Expanding MICE service business: If your hotel is having designs on offering the MICE service to tour groups or business travelers with available accompanied facilities and services, we will be the first-rate booking channel to optimize this. CCS Booking automatically classifies and searches customers' needs for the most appropriate and optimal choice.
Linking reputable travel agent and financial partners: By cooperating with major airline and road brands, we closely link the stages of the passengers' journey, so the risks on OTA channels often encountered such as cancellation, reduction of room will be limited maximally. In addition, with the system of bank partners or credit units offering expanded payment methods, you can be assured of the liquidity that each booking brings.
Professional customer department 24/7: CCS Booking team which is well-trained on job knowledge as well as have lots of experiences in this field, have the ability to solve problems and a professional, dedicated consultant style will surely meet all your requirements during the development process with CCS Booking. Besides, we will always be an effective information channel for you and your customers to be constantly connected, helping the hotel to perfect its service day by day.
Outstanding partners of CCS Booking
As a sub-brand of UHM Group, inheriting the guidance and advice from a team of professional experts, CCS Booking quickly gained the trust and cooperation of major projects spread across the country such as
Hotel partners: Sunset Sanato 5-star Resort project (Phu Quoc), 4-star Golf Valley Hotel (Da Lat), Hong Van Grand Hotel (Mong Cai, Quang Ninh), 4-star Boutique hotel Sapa Legend Hotel & Spa, luxury resort Dalat Edensee (Da Lat), …
Travel partners: Vietnam Airlines, Vietjet Air, Jetstar Pacific Airline, Air Asia, Thai Lion, Cebu Pacific, Nok Air, Scoot, Singapore Airlines, Cathay Pacific
Financial partners: VISA, Vietcombank, Vietinbank, BIDV, Techcombank, Sacombank, ACB, OnePAY, Payoo, Airpay, Zalopay