With the name inspired by Sweden to describe the road-like sparkling reflection of the moon in the water, Mangata Hotel known as the four-star hotel located on the coastal Vo Nguyen Giap street in Danang City is one of the further projects which UHM Group is responsible for the operational management. This December, UHM Group officially recruited numerous new positions for Mangata Hotel project to meet the needs of personnel and prepare for the next plan.
Mangata Hotel – Embraces dreams of the blue ocean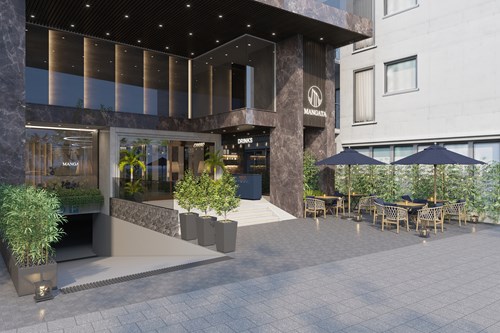 The glorious architecture of Mangata Hotel struck everyone by just a fleeting glance
Located on Vo Nguyen Giap Street, which is the dreamy sea street of Danang City and operated under the operational management of UHM Group, having said that, Mangata Hotel has appropriate opportunities, an advantage location and good relations to make its blue ocean dreams come true. Besides the four-star diverse package that Managata Hotel offers including the classy accommodation, relaxing, entertainment, health-care system, cuisine experiences as well as event and meeting organization, Mangata is outstanding with the magnificent, modern architecture with the stylized moon symbol in the mellow background with turquoise and white as the predominant colours that makes you might commune with the wide ocean and listen to the harmony of the sea.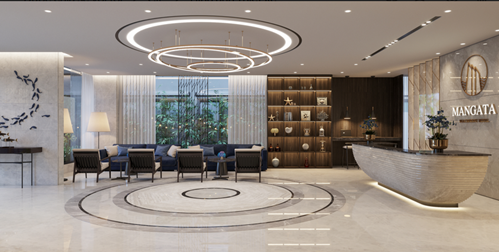 The color of the ocean features a unique stylized moon symbol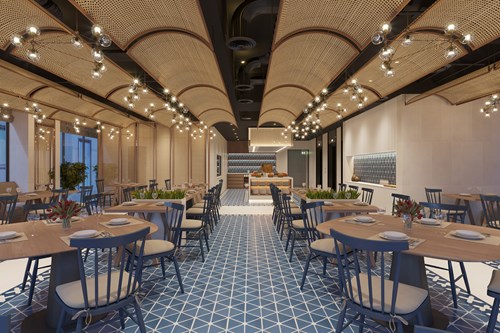 The spacious and splendid restaurant
As a companion of Mangata Hotel project, UHM Group always desire to bring customers in particular and Danang city in general an outstanding and truly impressive experience. For instance, there is the high-quality services, the professional mode of operation as well as the astounding specific coastal cultural of this stunning city. Another key point to remember is human resources is one of the vital factors contributing to lay the solid foundation for this project.
Make ocean dreams come true with the recruitment of Mangata Hotel
Upon that spirit, in order to meet the personnel needs for the first phase of the project, this December, UHM Group has began to recruit numerous key positions for the four-star Mangata Hotel.
If you pursue a long-term career in hospitality industry and want to develop yourself in a professional work environment, do-not-miss this recruitment of UHM Group. Mangata Hotel offers the senior management jobs as well as many other positions with competitive income, intensive training plans and benefits as prescribed.
Deadline for receiving applications: February 21, 2019
Submit CV (application file) to email tuyendung@uhmgroup.com.vn
Or send the application directly to UHM Group (Room 8.04, One Opera Building, 115 Nguyen Van Linh, Hai Chau District, Da Nang)
UHM Group
Project name: Mangata Hotel
Address: 198 Võ Nguyên Giáp, Sơn Trà Dist., TP. Danang
Model: 4-star hotel