At the ceremony, there were the participation of General Director of UHM Group - Mr. Nguyen Huu An, the leaders and staff of Board of Experts and Board of Functional experts of UHM Group. On the side of school, there were the presence of Mr. Tran Dang Hai - Rector of Lam Dong Technical and Economic College and representatives of the units in school and hundreds of students present at the ceremony.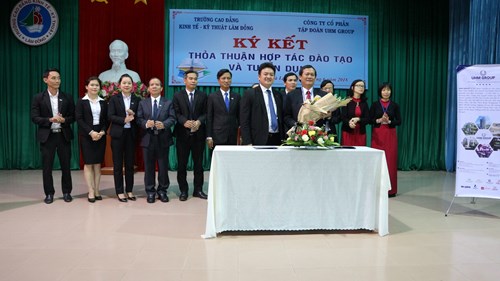 The two sides expressed their pleasant attending this ceremony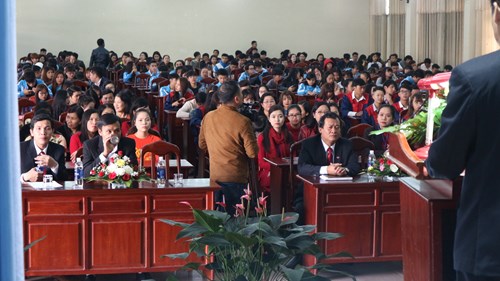 The ceremony has really appealed to the officials, staff and students in school
The ceremony took place in a warm and informal atmosphere. Opening the ceremony, General Director of UHM Group - Mr. Nguyen Huu An made an impressive speech when clearly identifying the development potential of Da Lat - Lam Dong tourism as well as difficulties and backlogs of supplying a skilled human resource that  being suitable for the current business situation and being able to work in an international environment.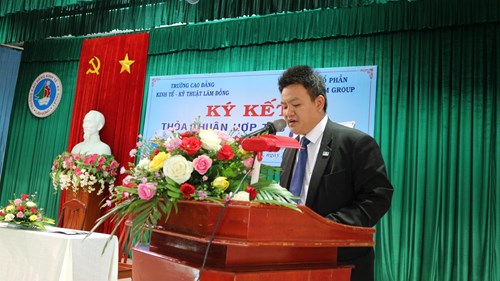 Mr. Nguyen Huu An - CEO of UHM Group speaks at the ceremony
While the shortage of human resource of Dalat tourism industry in specific and of the country in general, UHM Group expressed their wish that they want to cooperate Lam Dong Technical Economics College to train the high-quality human resources meeting the urgent needs of the market.
Upon this spirit, Lam Dong Technical Economic College and UHM Group have moved to an agreement signing a Memorandum of Training Cooperation. According to this memorandum, both parties have cooperated to boost the quality of the training program for students who attending Lam Dong College of Technology and Economics as well as help students have chance to intern and work for businesses managed and operated by UHM group. In addition, the signing of this memorandum has contributed to improve the standard of students' workmanship, which boost their self-confidence to work in a professional environment with the practical skill and high qualification.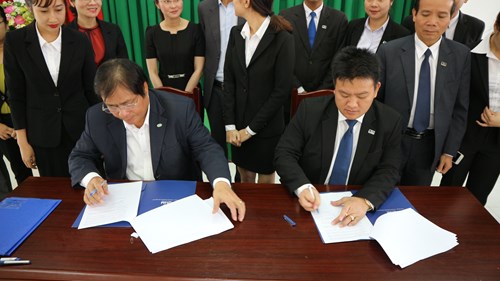 The cooperation agreement between UHM Group and Lam Dong College of Economics and Technology is officially approved
During the ceremony, UHM Group also granted 5 scholarships worth 5,000,000 VND to 5 disadvantaged students having excellent academic achievements as well as offer two chances for two outstanding students of school having the opportunity to experience working at UHM Group.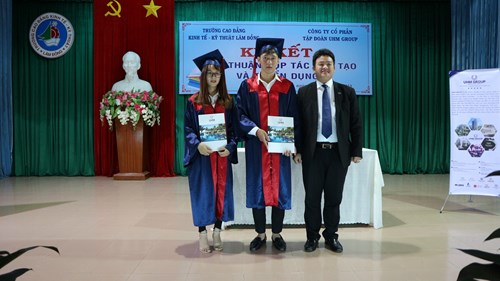 Representative of UHM Group received two students from Lam Dong College of Technology and Economics to work at UHM Group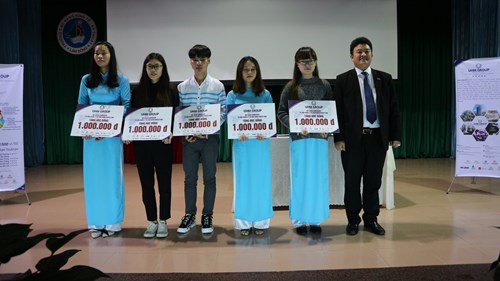 UHM Group also awarded scholarships to poor students who overcome difficulties
Based on the trust and determination between school and UHM Group, the cooperation between the two parties will contribute to ensuring the quality of students for society, bringing solid career opportunities for students, contributing to improving the reputation and brand for both UHM Group and Lam Dong Technical and Economic College.
-------------------------------------------------- -------------------------
FOLLOWING THE PROJECT INFORMATION AT:
Fanpage: http://bit.ly/2PUkYAp
Website: http://ktktld.edu.vn/